Speak to any Scottish Rugby fan about the period of time between 2000 and 2013 and you will find that the highpoints on which we reminisce are sparse. You may talk about the back to back home wins against England or Matt Giteau's bottle in front of the posts to give Scotland a rare (at the time) and narrow win over Australia, but what you will definitely talk about is the back row.
During this period of turgid rugby, terrible results and the lack of a recognised flyhalf without sideburns, Scottish rugby fans could cling to the knowledge that we continued to produce quality back rowers.
The back row is the only position other than scrum-half where Scotland has consistently produced quality players. In the 80s John Jeffrey and Derek White helped the national team to one outright five nations championship and a grand slam; Rob Wainwright was a test Lion in 97. The early 2000s saw Jason White, Alistair Hogg and Simon Taylor smash opposition players for fun. Currently we have Hamish Watson, the pinball wizard, and Jamie Ritchie, who has the potential to be the best of the lot, occupying the flanks for the national team.
But, in the early 2010s it was all about three men, messrs Barclay, Beattie and Brown: the Killer Bs.
John Barclay won 76 caps for Scotland between 2007 and 2019, first training with the national side at just 17. Had it not been for a period of exile between 2012 and 2016 he would (and should) have been a test centurion when he retired from International Rugby earlier in the year.
He is the best true openside flanker Scotland have produced for a long time. Always a threat over the ball, powerful in defence and an underrated attacking game, during his pomp Barclay was a world-class player. When Barclay played, the opposition ball was much slower, the best praise
anyone can give an openside flanker.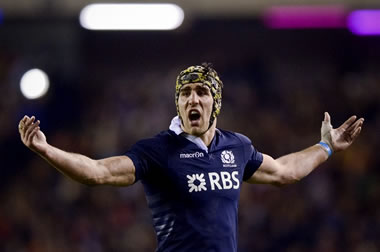 Kelly Brown made his debut for Scotland in 2005 and won 64 caps till his last in 2017, 14 of which as captain. Equally comfortable at six or seven, Brown was one of the best team players and leaders, an expert in the 'quiet' or 'unseen' aspects of the game. He was an excellent defender and as the
Saracens website describes him, "never a man to take a backwards step". Often underappreciated for Scotland, his value would be shown during his time with Saracens.
Brown made 164 appearances for the English club, in a squad full of quality, winning the Premiership three times and the Champions Cup
twice while latterly doubling up in a role coaching their Academy's forwards, a role that he still holds.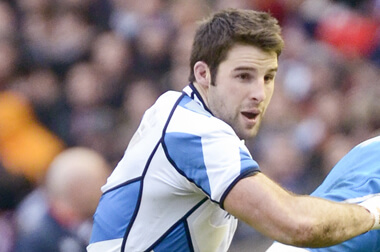 Following in his father's footsteps, Johnnie Beattie made his debut for Scotland in 2005. He would go on to win 38 caps with his last in 2015. Beattie was a powerful and abrasive number 8, something Scotland have been lacking since his departure. His best rugby came in the 2010 Six Nations Championship where he was named in Planet Rugby's team of the championship. His troubles with injury coupled with a move to France prevented him from being truly consistent with his performances but, on his day, he could move mountains.
These three together are affectionately remembered as the Killer Bs: a perfectly balanced back row with genuine class. This back row was the glimmer of light through the non-try scoring days.
It may surprise some fans then that the Killer Bs were a bit of a fallacy.
Despite long careers over the same period, this back row only played together on eight occasions. For comparison, the front row of Jacobsen, Ford and Murray played together on 34 occasions: and Jesus wouldn't let Murray play on Sundays.
So why were the Killer Bs remembered so fondly despite playing rarely playing together? Perhaps when they were together Scotland won a lot of games?
Unfortunately, this was not the case. Of their eight games Scotland won three, drew one and lost five, including a loss to Italy and THAT loss to
Wales. In the context of the time, only losing 50% of our games was a marked improvement, but not much to shout home about.
Perhaps the rugby being played was considerably better with all three Killer Bs? In the eight games the three players played together, Scotland scored a paltry four tries, two of which were provided by Barclay and Beattie. Once again, the blame for this can't be laid at any of their doors; Scotland didn't score many tries during this time, whoever was playing.
The 2010 Six Nations was the only full championship these three played together. Scotland finished fifth with one win and one draw. Normal for the time but poor at face value. However, they could have easily won the England game, they only lost to Italy by four points and the less said about the Wales game the better. Barclay and Beattie scored two of Scotland's three tries during the championship and Scotland had a better defensive record than Wales.
Also, someone had to win all those penalties for Parks to knock over. Barclay and Browns' work off the ball allowed Beattie to excel with ball in hand and play perhaps the best rugby of his career. And we will always have that day at Croke Park to remember.
Ultimately, the attritional nature of test rugby, injuries and inexplicable exiles limited the Killer Bs time together at international level. Individually, they were excellent players and together they weren't given the opportunity. The 2010 Six Nations showing glimpses of what could have been for Scotland, especially with Barclay and Browns' best rugby still yet to come.
Perhaps more time together could've ended the dark days of Scottish Rugby sooner. As it is we will always the memory of the Killer Bs.
Even if our memories might be playing tricks…
Games the Killer B's played together:
7 Feb 2010 – France – Murrayfield – Lost 18-9
13 Feb 2010 – Wales – Millennium – Lost 31-24
27 Feb 2010 – Italy – Rome – Lost 16-12
13 Mar 2010 – England – Murrayfield – Draw 15-15
20 Mar 2010 – Ireland – Croke Park – Won 23-20
12 June 2010 – Argentina – Tucuman – Won 24-16
19 Jun 2010 – Argentina – Mar Del Plata Won 13-9
27 Feb 2011 – Ireland – Murrayfield – Lost 21-18