Somewhat luckily for your correspondent, there are only three or four likely candidates to lead the Scotland squad during this year's Rugby World Cup in Japan. Of course it might take even less time if it were clear cut like England under Martin Johnson, or New Zealand under Richie McCaw, but choice is what makes us "free", right?
The First on the Team Sheet: Stuart McInally
Record as captain: W1 L2 D1 (4)
They say your captain should be an automatic pick, otherwise he's keeping someone better out just by virtue of being in charge. Of my leading candidates, Stuart "Rambo" McInally is the only one who is nailed on as a starter for the Ireland game given his form over the last two years. He has also been captain of both Edinburgh and Scotland (for more than one match).
Fraser Brown was coming back hard with some good late-season form at the business end of the pro season (when McInally would have been on holiday), but his late injury will affect progress in that regard. Brown is all but certain to travel, but will need to force his way into contention during the tournament in order to edge out Rambo.
McInally is a "lead by example" type of captain, who will punch holes with ball in hand rather than shouting and screaming, but that sort of example so far has been pretty good. As befits his win/loss ratio, he must bear some responsibility for both halves of the 2019 Calcutta Cup draw, good and bad.
There is an argument that he be allowed to focus on the basics of his game which can be truly excellent, rather than worry about the captaincy too much.
The Talker: Greig Laidlaw
Record as captain: W17 L20 D0 (37)
Greig is the most experienced leader Scotland has in the current group. While that carries with it some emotional scars, to some extent he has assumed the role of "troubleshooter" in recent years; either filling in from the bench or taking over as the starter mid-tournament when Plan A isn't working. The main captain at the last World Cup, he will want to stop his abiding memory of the tournament being Craig Joubert's back disappearing up the tunnel.
Dispossessed of the captain's armband after injury in 2017, Greig has come back to fitness to play a role in 2019 as the Yoda of the squad. He'll be in Japan, and he'll likely be in the 23, but will he be the captain?
A great reader of the game, arguments still rage as to whether he should be in the side just for his game management when Scotland often go missing in this regard – which is similar to the argument about sticking someone in the team just because they are a good skipper.
Add that aspect of his game in with his goal-kicking though and the positives do start to balance, if not outweigh, the lack of attacking threat from the base and swiftness of play.
You can also bet that now everyone has decided he offers no threat and won't play quickly, Greig will stick something special up his sleeve for what is likely to be his last World Cup.
The Commander: John Barclay
Record as captain: W9 L5 D0 (14)
Despite the relative uptick in Scotland successes of late, John Barclay is the only skipper of the three with a winning record, and a half-decent one at that.
He appeared in the 2007 and 2011 Rugby World Cups – the only squad member to have experienced a World Cup other than the last one – but was in the wilderness during 2015 despite making the wider training squad almost against expectation.
Taking over from Greig as captain in 2017, he led the team that year and through the 2018 Six Nations tournament before injury did for him in turn.
The way he led the team against Wales in 2017 and England in 2018 are the sort of captain's performances we need to see. Four of those in the pool games and we're on the way.
Barclay's problem is that his levels of consistency are not always that high. Several referees (Gauzere and Wayne Barnes) haven't seen eye to eye with him in the past on the breakdown, although he commands respect in general and seems more assured than Greig in his dealings with officials.
He's also in the most competitive area of the squad, the back row. Back in 2017/18 it looked like the team heading to Japan would be Barclay, Watson + AN Other. That is less certain now with younger lads like Jamie Ritchie, Magnus Bradbury or wildcards like Blade Thomson pushing for inclusion and all able to play 6.
Still, he'd be my pick if he's in the team.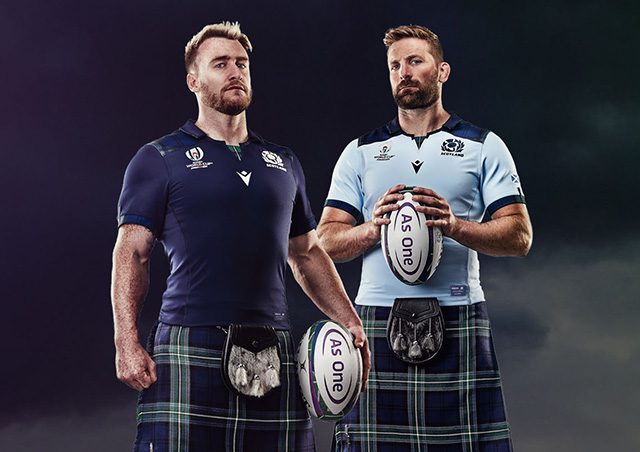 Bonus Pick – The Heart on the Sleeve Captain: Stuart Hogg
Record as captain: W0 L1 D 0 (1)
If you want passion and a little bit of fire from your skipper, Stuart Hogg is the man. Hogg, of course, is nailed on to start so fulfils Rule #1 but has had less success as a captain, certainly at international level where his record is a sole loss to the, um , USA in Houston which is why he's not one of the three leading candidates.
Exeter Chiefs' new signing has no shortage of passion but perhaps lacks the leadership credentials despite being a common pick as vice-captain and one of the senior figures in the squad.
Basing my knowledge of Japanese culture almost entirely on Snipes/Connery movie Rising Sun (and Banderscotch), Hoggy might be a bit full-on for a polite culture such as Japan and could be a risk guiding Scotland through a pool riddled with banana skins.
Some more rank outsiders – Ryan Wilson, Grant Gilchrist
Who would be your pick?
UPDATE: News today also that four players: Nick Grigg, Kyle Steyn, Henry Pyrgos and Gary Graham have been released from the World Cup training squad back to their clubs. That takes it down to a 40-man group.