After the relative successes of season 2017-2018, Edinburgh embarked on the New Year with an air of confidence. A confidence that was only boosted in pre-season by a good win v Newcastle (23-13) and a narrow but creditable loss to Bath (10-12).
That confidence was dealt a blow or rather two blows in the opening weekends of the PRO14 by losses firstly away to Ospreys and then in Belfast to Ulster. Edinburgh played below par in both games and probably didn't deserve to win either. That said – and this won't be the last time I mention this – some poor officiating from John Lacey and Stuart Berry respectively probably cost Edinburgh points as much as their own poor play did.
Edinburgh's first win of the season came a week later at home v Connacht. It was a hard fought victory in the end and not a great spectacle but it got the ball rolling.
Another away game at reigning champions Leinster followed and although Edinburgh put a huge effort into it Leinster were just too good and were easy winners.
Two home wins followed v Benetton and Cheetahs. The former was one that Edinburgh hung on to by the skin of their teeth as Benetton scored a late try to bring the scores within one point. They missed the conversion which would have won them the game.
These two wins were to be the start of an unbeaten home run that continued until February 2019.
The Champions Cup was next up and with almost no one giving Edinburgh a chance in hell of qualifying from their group they headed to Montpellier with nothing to lose. In the end another game that they "coulda shoulda" won got away from them. In the 70th minute what really should have been the decisive score went astray as Simon Berghan and Magnus Bradbury were adjudged to have crossed just before Bradbury touched the ball down. The try, just to the left of the posts, was disallowed.
A loss it was then but it kind of woke Edinburgh up as they realised: hang on a minute, we can do something here.
A week later they did do something by hitting European giants Toulon for 40 points at BT Murrayfield.
The autumn internationals commenced shortly after that and Edinburgh travelled to Italy. Their abysmal away record this season continued as they fell to a Zebre side that still had all their Italian Internationals in play. The team that Edinburgh sent, however, should have been good enough to take something from the game but merely left with a 16-34 hiding.
They redeemed themselves the week after with a cracking win v Scarlets at home which saw Scotland hopeful Blade Thomson sustain a concussion injury he has only just recovered from.
Another two international-depleted losses on the road followed to Dragons and Munster respectively and rounded off a mixed November. December however, to use a rather tired pun, was a cracker.
First off came back to back wins against Newcastle in the Champions Cup and left Edinburgh sitting pretty at the top of Group F, confounding the rugby 'experts'. The first two legs of the 1872 cup followed and Edinburgh ensured that the much-debated third leg, at Scotstoun, in April was to be a dead rubber at least in respect of bragging rights over the silverware. Both of the first two legs were won in quite straightforward fashion.
The first leg at BT Murrayfield was memorable in particular for the two intercepted tries that Duhan Van der Merwe ran in almost the full length of the field.
January started brilliantly before it finished in miserable circumstances in the Port Elizabeth heat.
A cracking try by Cammy Fenton which was made by Charlie Shiel's footwork rounded off a 38-0 home win against Kings in the PRO14 at the start of the month and then Edinburgh were back on Champions Cup duty against Toulon in France.
The French side started at a rate of knots and Edinburgh found themselves 7-0 down after only two minutes. They re-grouped though and scored 3 top notch tries including a contender for try of the tournament which had its origins in the power and offloading skills of Bill Mata and was finished by the pace of James Johnstone.
That win was followed up by a shootout at BT Murrayfield with Vern Cotter's Montpellier for qualification for the quarter finals.
It was nervy affair and Edinburgh fans may have feared the worst when Hamish Watson was injured early on. When the half-time whistle blew the home side had a narrow two point lead with Montpellier scoring the only try of the first half.
Edinburgh's superior fitness and desire won the day and a second half converted try from one of the emerging stars of Scottish rugby, Darcy Graham, meant Edinburgh were through to the knockout stages of the Champions Cup for the first time since 2011.
If that was the highlight of the season so far then the next game reminded supporters of the Jekyll & Hyde nature of this Edinburgh side.
Aided by ineffectual refereeing from Dan Jones, their own ineptitude and the lack of many of their front line players, (again on Six Nations duty), Edinburgh fell 25-21 to the Kings on South African soil. Two tries from Kings in the last five minutes overturned an 8 point Edinburgh lead.
Emphasising the tight nature of Conference B, Edinburgh's win the following week v Dragons saw them climb up to second place before succumbing to Cardiff and Benetton in the following fixtures saw them roll back down to fifth.
After that calamitous loss to Benetton, Edinburgh got back on the horse by beating Leinster 28-11 at BT Murrayfield. This match not only relit the teams all-but-extinguished PRO14 aspirations but saw the long-awaited return of John Barclay from knee ligament injury hell. He had a cracking debut for Edinburgh and was named the official Man of The Match although here at the Scottish Rugby Blog we gave the award to WP Nel.
Hopes high, the following week we welcomed Munster to Edinburgh in the quarter-finals of the Heineken Cup. Apart from Blair Kinghorn and Luke Hamilton, Richard Cockerill had a full complement of players to pick from. On a glorious afternoon in the Edinburgh sunshine, the team fell just short to a Munster side that had been over this course many times before and were able to bring all their experience – both fair and foul – to win the game.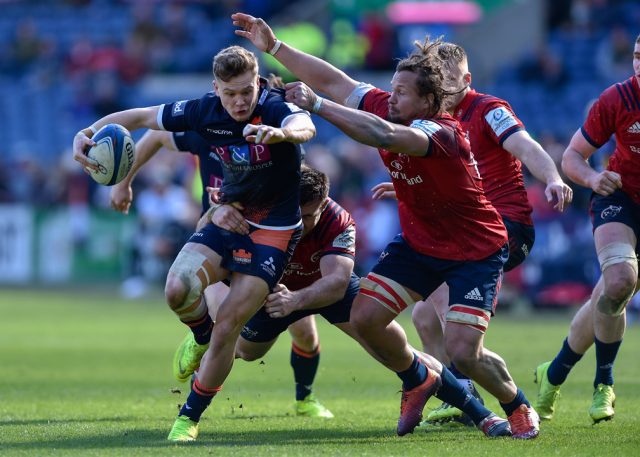 That left us with just the PRO14 and a week later Edinburgh travelled to Parc Y Scarlets to take on a Welsh side who had lost there only once in the past 31 games. At half time in the match it looked like that impressive record was set to continue but Edinburgh turned it around and left the principality with all 5 points. So far so good.
Two games remained and were the Murrayfield men to taste knockout rugby again this season nothing but two wins would do. A bumper crowd of 7856 turned up for the first of these against an Ulster side that had just had a sore lesson from Glasgow but Edinburgh looked spent and never really got into the game. This time it was Ulster handing out the lessons.
As Edinburgh took to the field in Glasgow for the last game of the regular season they knew, thanks to an unlikely Dragons away win earlier in the day, that any victory against their 1872 rivals would be enough to ensure a Champions Cup play-off place. Unfortunately, too many of the team looked tired and they were given an education in efficient use of possession and territory by a Glasgow side in no mood to let slip their advantage at the top of Conference A. Glasgow rolled onwards to a home semi final, while Edinburgh were left with sore bodies and bruised egos and plenty to reflect on for next season.
Progress made?
Superficially it's hard to argue that there has been any real progress.
Edinburgh finished 5th in conference B meaning no PRO14 playoffs or for that matter a Champions Cup play off. That's worse than last year.
We did have Champions Cup success but the feelgood factor from that has to be tempered with the realisation that we won't even be in that competition again until 2021 at the very earliest. Boom and bust then which is very much the Edinburgh of old.
When our international players were absent the mix of seasoned pros and callow youths we hoped would carry us through matches against the likes of Dragons and Kings just didn't perform, unlike similar players do for say Munster or Glasgow.
Also, when the big win or bust matches came around we were found wanting. We were too easy to work out and if our all-out frontal assault tactics didn't yield results then we didn't seem capable of outflanking our opponents. This isn't a player issue. We have good backs and but they just don't get the ball often enough. When they do it's mostly individual excellence that we remember (think Kinghorn, Graham or Jimmy Johnstone v Benetton away) as opposed to good teamwork or planned moves.
We don't score enough mundane tries either. Actually, strike that we don't score enough tries full stop: 79 tries in 27 games in all competitions this season – only Zebre and Dragons have scored less tries in the PRO14.
Towards the end of the season the accepted started Edinburgh fifteen started to look very jaded. This isn't a huge surprise in hindsight. Stuart McInally played in 26 of the 37 games available to him. Bill Mata 25 of 31. The much maligned Henry Pyrgos played in 24 out of 28 games for a total of 1778 minutes. That's a massive 74 minutes per game. Add in the fact that the way Edinburgh have played has usually meant 25-35 phases or more per try and you can see that fatigue was a significant factor in our collapse as we approached the finishing line.
The responsibility for the style of play and the depth (quality) of the squad  has to lie with the coaching staff and as loathe as I am to say it the buck for that stops with Richard Cockerill, regardless of what we think about Duncan Hodge's input on the attack front. We must evolve.
So we have to look deeper for tangible signs of progress then and it can probably be found in the much-improved attitude of the players. In the fact that despite what must have been interest from elsewhere, the much coveted Bill Mata and Hamish Watson have both signed contract extensions to stick around. It must also seen in the respect of the opposition who know that we are now capable of competing at the highest levels if perhaps we are still falling a little short in the really big games.
Our squad is getting stronger and we got good returns over the course of the season from guys like Pierre Schoeman who has quickly become a fan's favourite off and on the field.  Unfortunately, we lost both Mark Bennett and Matt Scott for significant portions of the season but that allowed Chris Dean and Jimmy Johnstone to flourish when given scope to do so. The return of Scott and Bennett coincided with the long-awaited arrival of John Barclay for a 4 game cameo.
The continued rise of Jamie Ritchie in a hugely competitive back row and the emergence of the Prince of Hawick, Darcy Graham as a dangerous option at both wing and full back have been real highlights. Both have gone on to be a success with the national side.
Looking Forward
Season 2019-2020 is going to be strange.
Edinburgh will definitely be without Hamish Watson, Grant Gilchrist, Stuart McInally and probably around 8-9 others who will be on duty with Scotland in Japan. That's not including Bill Mata who will be with Fiji until mid-October at the very earliest. Depending on Scottish progress in that tournament it could be more like the end of October before Cockers gets the spine of his team back.
On one hand that gives our fringe and youth players a chance to shine in the absence of the big cheeses. For example, it's unlikely more than one of the centre group will travel to Japan. But and it's a big but, the evidence from 2019-2020 is that Edinburgh's wider squad isn't quite up to the task.
With a glass-half-full attitude I'd like to think with the exposure they've had this year, youngsters such as Calum Hunter-Hill, George Taylor and Charlie Shiel along with the more experienced members of the squad not selected for international duty will keep the candle burning brightly until the stars return.
Some strengthening has already taken place. We have been joined by Jamie Bhatti, Mike Willemse, Eroni Sau, Kalione Nasoko, and Nick Haining who all signed for the club in March. We have also secured the services of Murray Douglas from Brumbies until the Super Rugby season resumes.
At the time of writing we also are waiting patiently to see who the "senior "scrum half is that Richard Cockerill said Edinburgh have signed, rumoured to be Nic Groom.
We were also hoping to be able to say hello to our new mini Murrayfield stadium, or "The Library" as I was hoping it could be named, but it was announced in April that we would be spending at least another year rattling around the main bowl  due to almost inevitable red tape delays with local officialdom.
Offsetting the arrivals Allan Dell has signed for London Irish and Nathan Fowles for Ealing Trailfinders. Sean Kennedy, Tom Brown and Luke Hamilton's contracts were not renewed.
Ross Ford left the club (for pastures unknown at this time) with 199 Edinburgh caps and 110 Scotland caps. He quietly and steadfastly represented the club for more than 10 years and even in this his final season, provided us with a standout moment as he chased back and caught Scarlets centre Kieran Fonotia with a textbook tackle to prevent him scoring in the corner in November. Thanks for your dedication and service Fordy.
We are also saying goodbye to Roddy Grant who is off to Ulster to continue his rise up the coaching ladder. Maybe we will see him in blue and burnt orange again in the years to come.
With prospective internationals away, our remaining squad (not accounting for Academy players) for the early season will be a bit like this:
Schoeman, Sutherland,

Bhatti

, Marfo
Cherry, Fenton, Willemse
Ceccarelli, McCallum
 Mckenzie,  Hodgson
 Hunter Hill, Carmichael
Luke Crosbie

 Ritchie

, Murray Douglas
Miller, Haining
Pyrgos, Shiel
Van der Walt, Hickey, Baggott
Van der Merwe, Sau
Socino, Dean,

Scott,

Johnstone , Taylor,

Bennett

Hoyland, Nasoko
Fife
Those in red have a chance of being with Scotland squad.
Even accounting for the delayed PRO14 start this squad will have 4 games in the PRO14 and possibly 2 in the Challenge Cup before the internationals start feeding back in and let's not forget the 6 Nations will be just around the corner when they return from Japan.
Stuart McInally and Scotland chums will in all likelihood play in less than half of Edinburgh's regular season matches so I don't think it's crazy to suggest that the squad mentioned above is going to have to step up massively if we want this coming season to be a success.
"It's the same for everyone" I hear you say. But it's not, as I've previously highlighted. Only having two Pro sides in Scotland means that more of our players on average will be required by the National team than in a country that has four pro sides such as Ireland. Some teams will be totally unaffected, such as Kings and Cheetahs.
Conclusion
We bid goodbye to season 2018 -19 earlier than we might have hoped but with heads held high and the memories of good days versus Montpellier, Toulon and Newcastle to sustain us and bad days in Port Elizabeth and Newport among others to keep us grounded (as if such a thing was required as Edinburgh supporters).
2019-2020 could be pivotal. It will be disjointed but without the distractions of top-level European competition I sincerely hope that Edinburgh can make inroads towards PRO14 success. 
I'll be watching however it pans out.