In their last 83 games Scotland have only scored a solitary drop goal – Duncan Weir's match winner against Italy in March 2014.
It's never been the most fashionable method of scoring, with the dark blues only notching 146 drop goals in their history compared to 1,231 tries. This long-term drought is new though. So what gives?
In the era of the 4 year Rugby World Cup cycle Scotland had always picked up a few drop goals in each period before reaching their high-water mark ahead of the 2011 tournament. Since then though…
For a bit of added context here are the average number of tries scored per game by Scotland for the same periods: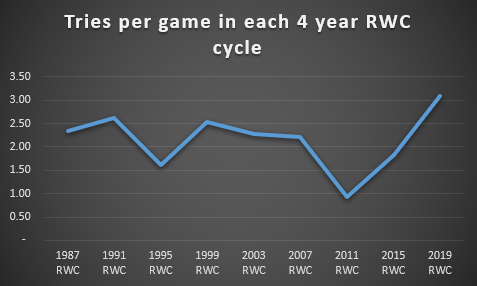 The king of the drop goal
2010 and 2011 were the peak years for drop goals. Dan Parks was in his pomp, banging over 13 in 21 games (backed up by another 2 from Ruaridh Jackson) as a Scottish side that struggled for tries attempted to find a way to keep the scoreboard ticking over.
All in all, Dan scored 17 drop goals for Scotland, ranking him 6th equal of all-time in the history of international rugby union (top dog of course being Jonny Wilkinson with 36).
As we look at it now, Scottish drop goals died the day Dan Parks retired. The man who bagged 24 of the 43 DGs in the history of Glasgow Warriors is synonymous with this method of scoring. And no one else since then seems that fussed.
Some might say "who cares?" It's always been the hardest to love method of grabbing points – if Jannie de Beer had picked up 5 tries against England in 1999 he'd never have had to buy himself a pint again. 5 DGs brought a rather sniffier response as if they were too easy and really anybody could do that.
The missing link?
In the context of the current Scotland team though, might there be the odd occasion when a drop goal might provide another outlet? Another way to get in front or build the scoreboard to get a result?
This isn't intended as some misty-eyed paean to heady days of drop goals (and barely any tries).
The genesis of this piece came midway through Scotland's 26-phase possession just before half-time against Ireland. The green wall was impenetrable and the thought popped up – if Finn Russell dropped back here…Middle of the pitch; 15 metres out. Easy 3 points and Scotland are in the lead. As it was, a failure to take points during those minutes may well have set the course of the match.
So far in this Six Nations, Scotland have been scoring off very few phases in the 22. None of their attacks that have involved 3+ rucks in the red zone have lead to a try. That's the reality of coming up against a packed defence. The closer to the goal line a side gets, the harder it becomes to score. It's easier for a defence to reload than it is for the attacking side. If there's no chance of a jackal there will usually be no defenders on the ground. However the ball carrier will need at least 2 or 3 of his mates to make sure possession is secured. When the ball is released from the ruck it's usually with the attackers outnumbered.
Bring back the Drop Goal
So if Scotland drop a goal instead, what might change? It wouldn't just be about picking up points there and then. Suddenly there's another factor for the defence to consider every time Finn and co. are back in the 22. Do they just aim to smash those forwards waiting either side of the ruck? Or do they need to get past them to charge down the kick? From a position in the pocket behind a central ruck, Finn can take control. Take the points; keep marshalling the forwards in front of him; break left or right depending on how he reads the defence.
It also factors into the way this Scottish attack most probably has to develop if the side is to keep progressing. More control at 10. More decision-making for Russell. Moving away from the crutch of relying as much on Greig Laidlaw to temper things. 'Finnsanity 2.0: the Racing years' has already demonstrated that while the cheese and wine lifestyle may not be good for his waistline, it's matured Russell like those finest products of France.
Time to release the toddler harness and let the man who will truly define the Townsend era's success or failure run free. Who knows, he may even drop a goal or two…