Are you a young fella that has played rugby this season, but are looking for something else this summer; something more interesting?
I have recently been contacted by London Rugby Club in Canada asking if I could possibly locate some exciting, young, creative players to go and play in Ontario, two hours from Toronto and two hours from Niagara Falls.
They are looking for a number 8 and a centre who can give them front foot ball and link play with the rest of their squad.
Believe it or not I actually began writing for this blog whilst I was playing for London a few Summers ago. After being knocked out of the Scottish Cup by Ayr in the semi-final and having gone through the gruelling British and Irish Cup I was looking for some relief in rugby terms, but wanted to keep myself match sharp.
I started correspondence with three clubs in Ontario: Toronto Scottish, Balmy Beach and London. Of the three two appeared to be accommodating and only London seemed to be showing a real personal touch. In the space of three weeks I had organised a stay, a job and a rugby plan.
At short notice I flew out to Canada. I had only just finished my exams and I was straight on a plane. You can imagine how relieved I was when someone was actually at the airport waiting for me, rather than it all being some elaborate hoax, but life is better for such risks…
I headed out three weeks before my brother, Andy. We both made home in this student town with a population of about 200,000. It was perfect for us. We were painting houses and sanding decks, clearing warehouses and moving furniture but it was money for food and beer and at that time of year the sun was high and hot.
We were not wanting for jobs and our accommodation was cheap and comfortable. We were well looked after.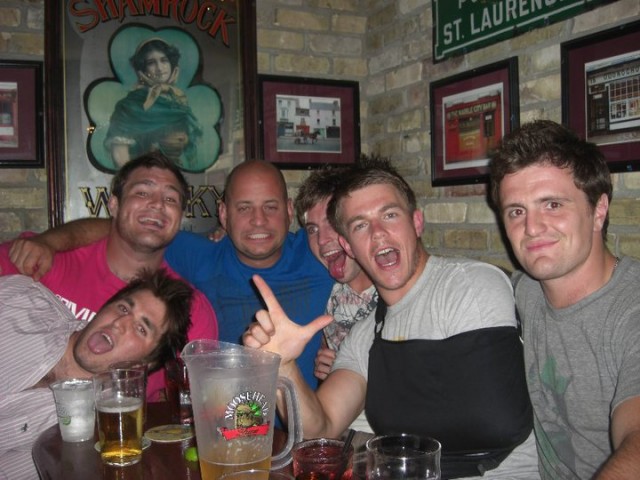 In social terms it was fantastic for the tourist. You could make a trip to Niagara or Toronto and Canada Day Weekend, which was one long party, would fall right in the middle of your stay. Once you overcame the national obsession for Tim Horton's (you'll find out…) you were glad of the multiple refuelling stops. The club had great ties with gyms and you could keep in shape. You met all sorts of people from concrete pourers, funeral directors to fellow students and even international rugby players. London, like many other Canadian rugby teams, was inclusive and welcoming to all types.
I suppose it helped that the team's social base was the most popular and busiest bar in the centre of London's main strip…
Three months my brother and I spent in London and we were both sad to leave and happy to have had the experience.
Since then London have dropped a division, but they still boast a number of quality players from age grade internationals to full Canada caps and coaches from Wales to New Zealand. They would give you a chance to play rugby in scorching heat amongst good friends and play your own way. That is what they want.
There will also be the chance to coach their seconds or thirds or even their women's team. If you have the skills they can cater for you.
All London would ask is that you could commit to at least 3 months of time in the area and that you could attain a work visa for a short stay. It is perfect for students or those unwilling to go on the same old clichéd Gap Year. Their president would be happy to help you through this process and everything can be talked over: no one works in absolutes.
Believe me when I say that if you are a young, inventive, attacking player this is the sort of environment where you can thrive and that you can make good friends for life. If you think you would be interested in this great social and rugby-driven opportunity and you would be willing to commit then contact me at alan[at]scottishrugbyblog.co.uk and everything can be discussed in more detail.